Opens 19 November 2011
All works available for sale.
Brian Henderson's new paintings at Vaila Fine Art
Exhibition runs 19 November to end January 2012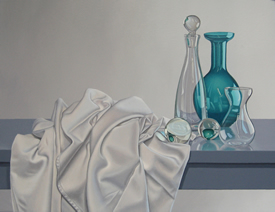 A new exhibition of paintings by Brian Henderson opens at Vaila Fine Art on Saturday 19th November at 6 pm.
We all know Brian Henderson and his ability to amaze us with his precision of execution of photo-realistic paintings in acrylics, his eclectic choice of subject matter and his consistent vision of the better aspect of life. This new work by the much loved and collected artist will not disappoint his followers – it is sharp, crisp and engaging. There is immaculate fruit, well polished glass and freshly laundered table linen. There is even one little piece of "merchandise", so evocative of his earlier shows, and the artist's portrait reflected in a glass ball. All 21 images are pleasingly composed and ready to hang unframed. Brian's delight in depicting the carefully chosen object in brightly lit interiors is evident in every picture. His virtuosity in concealing individual brushstrokes is as puzzling as ever.
But there is something relaxed and unexpectedly mature in the latest work. Beside the usual formal serenity and harmonious choice of objects, Brian's still life studies now also acknowledge the existence of the inhabitants of his carefully ordered world and the potential low key chaos the human presence can introduce. There is a pair of shoes not lined up heal to toe with a length of flex abandoned across it on a warm Oriental rug. There are books waiting to be picked up, placed face down next to cups of coffee, there are also crumpled table cloths, adopting positively casual poses among the perfectly styled glassware. Even the most formal of arrangements, such as the star exhibit, Glass and Napkin, have one vessel recklessly placed slightly overhanging the edge of the table and the napkin thrown on the side, as if in passing.
All works are for sale and the prices range from £300 to £1,300. The exhibition continues until the end of January 2012.