News and views from Vaila Fine Art
Peter Biehl. From May to October. Opens 10 June 2011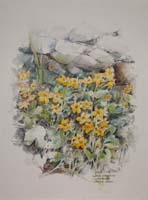 Peter Biehl is a member of Veer North and his immediately recognisable drawings of wildlife will be familiar to the Shetland public. The drawings are extremely accessible and pleasing, effortless in appearance and essentially decorative. However, no "child of five", so often quoted by amateur reviewers when presented with contemporary work, could draw like Peter Biehl. The subjects of the images are all individual, not generic. They are all painstakingly observed and competently rendered, rather traditionally presented portraits of plants, birds, sheep and ponies, captured on a particular day in their habitat, selected for their personal appeal to the artist and masterfully executed. It is in fact quite hard to separate technique from the mixed media of crayons, watercolour and oil pastel. It takes real effort to see how exactly the artist managed to convey anatomical complexity with such confident economy of touch. Peter Biehl applies his craft as lightly as he carries his chronological advantage: he was born in Nazi occupied Denmark in 1941. Read more...
Paul Bloomer's work has been well known in Shetland since 1997. His strong images of birds and highly stylised island communities are immediately recognisable. The current exhibition includes both recent work and also work conceived and executed over the years but previously unseen. The show represents only a modest and potentially more commercially accessible sample of pictures by this very prolific artist and teacher, engaged as much in private pursuit of public expression as in current affairs. The oils on show are of domestic dimensions. Read More...
Vaila exhibiting artist Alison Harper featured in a major London exhibition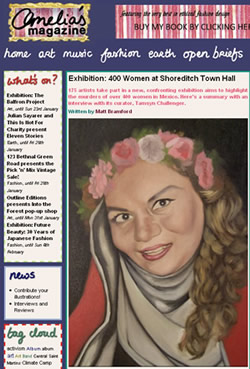 400 women is an exhibition of 179 artists, included Maggi Hambling, Tracey Emin and Paula Rego, highlighting the brutal murders of 400 women in Mexico.
Amelia's Magazine review - picture left.
Art newspaper review
2 Lge 4 ZE / 2 Small 4 the PLANET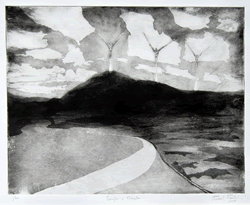 Vaila Fine Art has opened its doors to artists who wish to respond to Viking Energy Partnership's proposal to build 154 145 metre (476 feet) wind turbines on Shetland. For further information about the current exhibition 2 Lge 4 ZE / 2 Small 4 the PLANET please contact us directly.
Read 2 Lge 4 ZE / 2 Small 4 the PLANET Press Release PDF