Artists
A small sample of the many artists we have exhibited over the years.
New exhibitions are added to this list as they open
Current Exhibitions
Opens 18 July 2018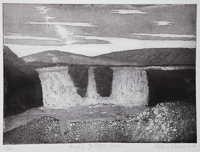 This exhibition at Vaila Fine Art is of new works by Richard Roland
Richard Rowland has worked from his studio on the Westside since 1998. His latest show at Vaila Fine Art contains prints from his travels in Iceland and the Faroe Islands and other recent work.
Richard trained in London at the Sir John Cass Art School and at the Camden Institute, choosing to concentrate on etching since 1986. He has exhibited regularly, mainly at the Millinery Works in London and at Vaila Fine Art.
"I enjoy the combination of creation and craftsmanship involved in the time consuming process of etching."
He uses the same techniques and materials as used by Rembrandt in the 17th century supplemented by aquatint later developed by etchers to create tone. He works mainly in monotone, although some of his recent prints are in colour. Read more
Information on previous exhibitions at Vaila Fine Art.