From 22 November 2014
All works available for sale, £450 - £550, mounted and framed to conservation standard.
Joyce Wark: New Paintings 2014, press release
Opens 22 November 2014
New paintings by a much-admired Shetland artist, Joyce Wark, are exhibited at Vaila Fine Art in South Commercial Street from this Saturday 22nd November. This is the much-anticipated third exhibition by Joyce at this gallery and the 19 paintings are the result of two years' work. The artist admits that each painting now tends to take longer to complete than in previous years.
Some of Joyce's watercolours are landscapes surrounding her home in South Mainland, beautifully observed and executed with intricate technique. Joyce relies on photographs as a tool of her craft but her pen and brushwork surpasses any enhanced electronic image definition. The artistry is in the manner in which she portrays the familiar scenes, where she finds harmony and balance and something worth immortalising.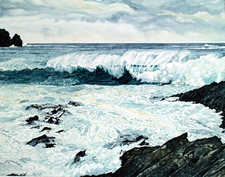 Joyce's seascapes are truly masterful – her spilling waves have proper rolling weight to them, with tops dissolving into fine spray. The sea appears alive before your eyes. Just like with the real thing, you could never tire of looking at these paintings. Joyce understands her sky with similar finesse; there are whole weather fronts defined with consistent cloud formations, with massive, menacing underbellies suspended overhead.
Trees are Joyce's new subject matter. As with her rock formations or pebbly beaches, the particular trees in her paintings have true presence and intensity of purpose. Sycamores and contorted pines are depicted with a portraitist's attention to bark textures. The most fragile of lichen and spongiest of mosses almost exude a woody aroma. Her new work truly captivates all the senses.
Is there no limit to this fine artist's talent? She tackles birds and a hare with confidence of a mature Pre-Raphaelite, making them look decorative and oddly fashionable
All watercolours in this exhibition are for sale from £450 to £550. The framing was done by Stevie Wark, Joyce's in-house framer, to conservation standard. The exhibition continues until Up-Helly-Aa.
Vaila Fine Art is open on Tuesdays, Thursdays and Saturdays 11am-5pm.