About Ron Sandford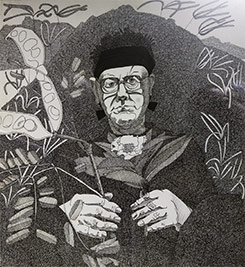 Fifty years ago Ron Sandford became addicted to drawing. Since then he has required his daily fix and without pen and paper he suffers from withdrawal symptoms: the unease he displays if he does not get his minimum daily dose of 3 - 4 hours drawing is palpable, and gets no better as he gets older.
Earlier in his career he taught part time at the Central School of Art, the Royal College of Art, St. Martins and Brighton and attempted to share his habit with his students. He had mixed success and a disproportionate number of his students opted to become full time cartoonists (rather than aspire to the standards of their tutor?)
His freelance work was taken up by various publishers, including Longmans, MacMillans and others, and by Channel 4 TV. His mastery of perspective and detail led to commissions from Norman Foster, Richard Rogers and other architectural agencies, and for an extended period the Victoria and Albert Museum made use of his artistic talents.
The wide range of assignments he has been awarded is reflected in his accumulated collection of sketchbooks: sniper's views from the rooftops of London, the Speyside Way, St. Fergus Terminal, and the more exotic locations of Provence, Italy, Istanbul, Paris, Macau, Hong King and studies of mainland China.
Exhibitions of Ron Sandford's work have ranged even further - to New York, Houston ... and the Old Ha Gallery, Yell!
The sketch books also reveal that his repertoire is as eclectic as his musical taste: the unique perspectives in his observational drawings, figure studies, landscapes, cityscapes and studies of natural forms - he is particularly keen on flora. There are works of imagination (his logo for the Price of Wales Trust is an ingenious example) and images of his native Clydeside conjured up from memory - courtship rituals and of his past life as a jazz musician.
His oilrig series, commissioned by Mobil Oil and now in Grampian Hospitals Arts Trust collection in Aberden, strikes a nice balance as the technical details of an offshore installation are depicted alongside profiles of the roustabouts and all the men who keep the operation going.
Since the 1960's he has found an outlet for his interest in poetry and literature as a corresponding editor of Ambit, a quarterly art and literary publication. Each issue ove the past 40 years has included his drawings and around 200 poets have sat for their Sandford portraits!
Following his valedictory commission to draw the
Millennium Bridge in London, Ron and his wife Meilo and their daughter Ming moved to Yell where he had first visited in the 1980's. There his output continues to be prolific. Freed from deadlines and exacting commissions, he has followed his own creative agenda and revelled in the subject matter he has found in Shetland.
Sketch books are now being filled with images of vernacular buildings, knackered churches, trout fresh from the loch, Shetland wild flowers, fishing boats, geological studies of geos, portraits of neighbours, agricultural shows, lighthouses and locations throughout Shetland which have struck a cord with him.
Currently too many students from colleges of art seek shortcuts and fail to master the primary mode of expression and deviate towards gimmickry: they seek a quick fix in the dubious art forms of IT graffiti and installation, and eschew the essential discipline of drawing.
In contrast, Ron Sandford eloquently displays that the traditional discipline of drawing can evolve into high art form using only simple tools of pen and pencil. Notwithstanding his addiction to drawing, no deviant he. And little wonder that his fellow artist, the late Edward Bawden, dubbed him "The Wizard of the Ink Bottle!"
Ron Sandford:
ARCE, Associate of the Royal College of Art, London
RDI, Royal Designer for Industry
DA, Drawing Addict
Contributed by Mike McDonnell
This profile of Ron Sandford was compiled from faxes and letters from the artist (a few) and conversations over pints of Guinness (many).