Howard Towll: Along the voe.
15 June to 31 August 2013
All paintings are mounted and framed. Prices from £300 to £800.
Howard Towll: Along the voe exhibition press release
An Exhibition of Howard Towll's new paintings and drawings of the wildlife and landscape of the Bridge of Walls area opens at Vaila Fine Art on Saturday.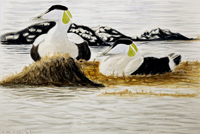 This exhibition consists of drawings and watercolour paintings of the wildlife and landscape from along the shore of the voe, the freshwater lochs and the surrounding hills, all a short walk from the Bridge of Walls. This tiny corner of Shetland contains a diverse natural heritage, which the artist has sketched and painted directly from life, in all weathers and all seasons. The paintings include Mountain Hares hunkering down in an icy north easterly wind in mid winter, Otters catching fish on a fresh spring morning, Common Seals lounging on rocks on a warm summer afternoon and numerous studies of birds including Eiders, Arctic Terns and Herons, as well as images of the surrounding landscape. Although spanning the course of a year, in reality the exhibition is representative of 3 years fieldwork and the show contains only a selection of a large body of work produced in that time.
Howard Towll has lived in Shetland since 1991 and worked as a Ranger for the Shetland Amenity Trust for the past eleven years. A keen ecologist, he describes himself modestly as not trained and self-taught, saying, " I just drew what's there", but the works on show imply a lifetime of persistent, disciplined observation of nature and considerable familiarity with the creatures' anatomy and habitat. The paintings are enchanting and evocative but never sentimental. The landscapes are depicted with serene restraint and underlying affection. This exhibition will delight a lot of people familiar with the area, but can also inform visitors about the pristine environment of Shetland's Westside.
The show continues until end of August 2013.