Joyce Wark's exhibition of paintings at Vaila Fine Art
Opens 17 November 2012
Press release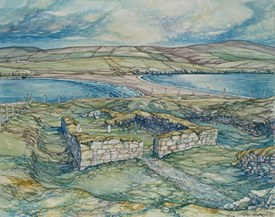 New paintings by a much-admired Shetland artist, Joyce Wark, are exhibited at Vaila Fine Art in South Commercial Street from this Saturday 17th November until 31st January. This is the second exhibition by Joyce at this gallery and the 29 paintings are the result of two years' work.
Joyce's watercolours are mostly landscapes surrounding her home in South Mainland, beautifully observed and executed with gradually maturing technique. Joyce relies on photographs as a tool of her craft but her pen and brushwork surpasses any enhanced electronic image definition. The choice of subject matter is very accessible and topographical features are accurately placed. The humblest of detail is included, such as a septic tank cover or an abandoned gatepost. There is even a white Ford Transit van with its back door slightly ajar and assorted cargo typical of a popular workhorse vehicle. The artistry is in the manner in which she portrays the familiar scenes, where traditional dwellings nestle in the hillsides, where modern structures attempt to impress, but where she finds harmony and balance and something worth immortalising.
Joyce's seascapes are truly masterful – her spilling waves have proper rolling weight to them, with tops dissolving into fine spray. The sea appears alive before your eyes. The effect is particularly captivating in the larger watercolours. Just like with the real thing, you could never tire of looking at these paintings. Joyce understands her sky with similar finesse; there are whole weather fronts defined with consistent cloud formations, with massive, menacing underbellies suspended overhead. The sunset painting is particularly striking, even by Shetland sky's stunning standards.
It appears that Joyce has also found a new fascination for her future work – trees. As with her rock formations or pebbly beaches, the particular tree in her painting has a true presence and intensity of purpose. Her new work is bound to captivate.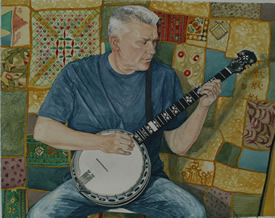 A handful of portraits is included in the show. The sitters were chosen by the artist and are well known local personalities. More than any other art form, portraiture is most subjective and hardest to pursue professionally. However, these portraits were initiated by the artist, not the patrons, so the sheer joy of painting them and the love of the characters are much in evidence.
All watercolours in this exhibition are for sale from £300 to £700, except one. The framing was done by Stevie Wark, to conservation standard. The deceptively simple frames deserve a mention because they fulfil their role particularly well: Joyce's lightly-pigmented paintings could be hung either on a plain white wall or the busiest of retro wallpapers and still stand out. The blonde ramin wood might equally well complement a modern or traditional interior.

See more Joyce Wark watercolours in this exhibition. Gallery 1, Gallery 2, Gallery 3