Artists
As this web site develops, and new artists exhibit with us, some if their works will be accessable here. We currently have some images of previous exhibits, so this current selection is just a very small sample of the many artists we have exhibited over the years.
View art by
Rosemary Beaton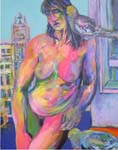 Easter, Venice
Rosemary Beaton is best known for her colourful and highly personal figurative works. She graduated with first class honours at Glasgow and won The National Portrait Competition in 1984 when she was just 20. She was then commissioned to paint Sir Robin Day for the National Portrait Gallery.
She has exhibited widely in Britain and abroad and has been a part-time lecturer at Glasgow School of Art. Her work is represented in collections including the National Gallery and the BBC.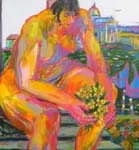 The intimacy of Venice
Beaton combines supreme draughtsmanship with an unusual and individual colour sense. Venice has been awash over the centuries with painters but no-one can have treated the subject quite like Rosemary has. She combines colourful nudes in contemplative poses (one nude but for her wellies and a raincoat perched on her shoulders), with scenes of Venice.
The fun, sensuality eccentric confidence of ";The red Chair, Piazzetta di San Marco " implies an absolute normality of being nude on the staircase of a church or lying in a gondola. The humour and odd juxtapositions of people and places are irresistible. Her work displays a celebration and a love of life that is rare and welcome at a time when both painting itself and happiness as subject matter are on the defensive.
As for the influences of other artists who have worked on this subject, Beaton mentions the "Sargent in Venice" show that they visited while there. She loved his grouping of people into small watery bundles or dark silhouettes. As a consequence she says she used more layered washes in her acrylics. She was also influenced by F.C.B. Cadell, the Scottish watercolourist who also worked in Venice.