Richard Rowland: Mongol Rally press release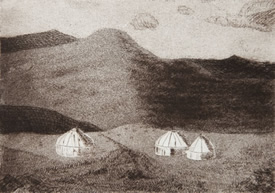 Vaila Fine Art is holding an exhibition of etchings by Richard Rowland of his travels from Lerwick to Mongolia in the Mongol Rally last summer. The Private View is at 6pm on Saturday 23 June 2012.
Last summer two intrepid teams set off from Lerwick to drive 10,000 miles in the Mongol Rally to Ulan Bator. The "WTF is a Perodua" Team had much publicity, including a tyre changing competition for the Perodua Girls and a Racing evening at Clickimin. Overall they raised over £20,000 for charity. The other Shetland team were lower profile and travelled in an ambulance called Florence, as befits more elderly gents, but still raised over £15,000 for charity.
This other team comprised Richard Price, known in the Rally as Deadeye, who has stayed on Out Skerries for a generation, diving off wrecks and Richard Rowland, who has stayed on the Isle of Vaila since 1993. The oldest team in the Rally, they arrived last in Ulan Bator.
Richard Rowland has produced a series of etchings of the trip, which will be shown at Vaila Fine Art, and a book comprising his blog of the trip, illustrated with his etchings, entitled A Short Blog in Steppe and 'Stan. He will be signing copies at the Private View of the Exhibition on 23 June.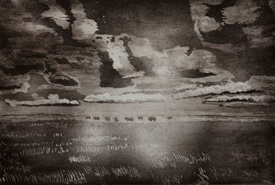 Richard's etchings cover views of 16 of the countries which they visited. It comprises a mixture of landscapes and architectural studies. The dusty dessert surroundings are a natural subject matter for his sepia toned aquatints with herds of Cashmere goats and sheep, wild horses, Bactrian camels and yaks. Rowland's works of towns on the Silk Road with their ancient minarets, mosques and medressas represent the timeless quality of their architecture. They also include Mongolia's vernacular yurts, known there as Gers.
Richard's book is a light hearted account of their preparations for the Rally and their 9 week odyssey, including blagging their way through the borders with many gifts of cigars, party poppers, pens, tennis balls, balloons, bubble mixture and size 36D brassieres! It also contains an "Epiblogue" of practical advice for aspirant Rallyists.
See more Mongol Rally etchings by Richard Rowland.