Pricing
Prices from £100 to £1300.
Discounts for multiple purchases.
Winter Show artists
Peter Biehl, Ruth Brownlee, Paul Bloomer, Claire Dalby, Peter Davis, Dave Donaldson, Mike Finnie, Gail Harvey, Brian Henderson, Mike McDonnell, Roxane Permar, Richard Rowland, Ron Sandford, Meilo So and Joyce Wark.
Artists Statements
Not all work has been photographed, so this website offers you a selection of what you can expect when you visit us in the real world at Vaila Fine Art in Lerwick.
This quietly magnificent show continues until 19th December, and is best appreciated by being there. The gallery's enthusiastic proprietor is willing to open outside the usual times by appointment, weather-permitting.
Winter sale show
Our Winter 2010 sale show is a new group exhibition at Vaila Fine Art, featuring the work of well-known professional Shetland artists. The title of the exhibition may sound humbly commercial even though the work is of the customary high standard and selected with pride by the contributing artists. There is no Private View this time, so please do not be put out by the absence of personal invitation – visitors are welcome without the inevitable festive crowd obscuring the exhibits. A discount will be offered on multiple purchases.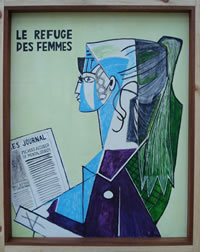 In the panelled Front Room there is an excellent juxtaposition of rarely available on home ground Gail Harvey on the right wall, and prolific Mike MacDonnell on the left wall. For the readers unfamiliar with the artists, here is an evocative quote from Gail's recent statement: "Painting is […] a flow, a broken rhythm; movement describing energy and space.", and here is an expanded title of one of the previously unseen in Shetland constructions by one of the most entertaining satirists working in Yell today: "Refuge des Femmes. With no apologies to Picasso. Since he treated his women very badly, he is the one who should have apologised."
Claire Dalby, one of the Gallery's grandest bestsellers and a regular summer visitor, features with meticulously topographical, recent watercolours of Burra, Whalsay, and Scalloway.
Words do not do justice to the artists. Obviously, if words did them justice, they would be poets.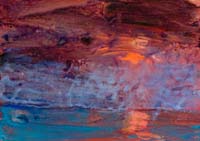 In the Second Room, the one with most natural light and occasional atmospheric footsteps of gulls on the glass roof, there is another satisfying near-clash of Paul Bloomer's landscape inspired paintings on domestic scale, Peter Davis's recent large watercolours, Ruth Brownlee's exquisite, intense, jewel-like seascapes, and Brian Henderson's much sought after acrylics, including an intriguing semi nude which invariably attracts admiring glances.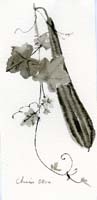 The Red Room houses the more representational section of the show. There are Joyce Wark's lovingly rendered Foula landscapes and Peter Biehl's perceptive Shetland ponies' portraits. Charismatic Ron Sandford's lighthouses are staggeringly competent and Meilo So's deceptively unassuming Chinese vegetable illustrations may make you gasp with admiration for her confidently subtle brushwork. Richard Rowland's latest Vaila soft ground etching and aquatint, glorifying mounds of winter black bales, opens your eyes to the colour range of monochromatic prints. Mike Finnie's love of vernacular architecture is evident again in two strong watercolours of Burra and Sellafirth, rendered with some uncommon for this artist green pigment.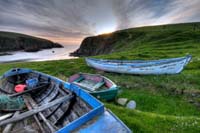 Finally, the Last Room with black walls hosts a new departure for the Gallery: digital landscape photographs by Dave Donaldson, a regular contributor to local press and chronicler of the islands' political events as well as their beauty. Dave shares the intimate space with four ethereal prints by Roxane Permar, who hardly ever shows accessible work in commercial spaces, believing that "art can stretch people's creative imaginations, enhance their self-esteem and engender a sense of ownership in all aspects of their lives".
Prices range from £100 to £1,300. The quietly magnificent Christmas Sale Show continues until 19th December and the gallery's enthusiastic proprietor is willing to open outside the usual times by appointment, weather-permitting.
Read show review in Shetland News.